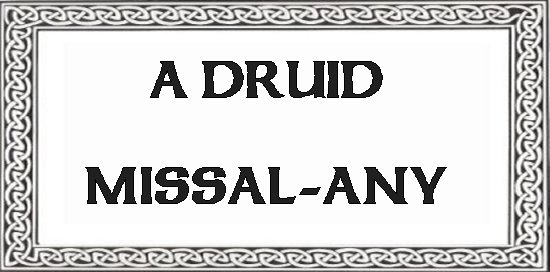 A Newsletter of the Reformed Druids of North America
Back Issues

Fall Equinox "A Druid Missal-Any Vol. 23. Issue 6" September 28th, 2005
Full Graphics Version
Plain Text Version

Lughnassadh "A Druid Missal-Any Vol. 23. Issue 5" July 28th, 2005
Full Graphics Version
Plain Text Version

Summer Solstice "A Druid Missal-Any Vol. 21. Issue 4" June 18th, 2005
Full Graphics Version
Plain Text Version

Beltane "A Druid Missal-Any Vol. 21. Issue 3" May 1st, 2005
Full Graphics Version
Plain Text Version

Spring Equinox "A Druid Missal-Any Vol. 21. Issue 2" Mar 20th, 2005
Full Graphics Version
Plain Text Version


Oimelc "A Druid Missal-Any Vol. 21. Issue 1" Jan 31st, 2005
Full Graphics Version
Plain Text Version

Yule "A Druid Missal-Any Vol. 20. Issue 8" December 21st, 2004
Full Graphics Version
Plain Text Version


Samhain "A Druid Missal-Any Vol. 20. Issue 7" October 24th, 2004
Full Graphics Version
Plain Text Version

Fall Equinox "A Druid Missal-Any Vol. 20. Issue 6" September 23rd, 2004
Full Graphics Version
Plain Text Version


Lughnasadh "A Druid Missal-Any Vol. 20. Issue 5" August 2nd, 2004
Full Graphics Version
Plain Text Version


Summer Solstice "A Druid Missal-Any Vol. 20. Issue 4" June 19th, 2004
Full Graphics Version
Plain Text Version


Beltane "A Druid Missal-Any Vol. 20. Issue 3" May 1st, 2004
Full Graphics Version
Plain Text Version


Spring Equinox "A Druid Missal-Any Vol. 20. Issue 2" Mar 17th, 2004
Full Graphics Version
Plain Text Version

Oimelc "A Druid Missal-Any Vol. 20. Issue 1" Jan 26th, 2004
Full Graphics Version
Plain Text Version

Yule "A Druid Missal-Any Vol. 19. Issue 8" Dec 15th, 2003
Full Graphics Version
Plain Text Version

Samhain "A Druid Missal-Any Vol. 19. Issue 7" Oct 31, 2003
Full Graphics Version
Plain Text Version


Fall Equinox "A Druid Missal-Any Vol. 19. Issue 6" Sept 10th, 2003
Full Graphics Version
Plain Text Version


Lughnasadh "A Druid Missal-Any Vol. 19. Issue 5" August 1st, 2003
Full Graphics Version
Plain Text Version


Summer Solstice "A Druid Missal-Any Vol. 19. Issue 4" June 21st, 2003
Full Graphics Version
Plain Text Version

Beltane "A Druid Missal-Any Vol. 19. Issue 3" May 1st, 2003
Full Graphics Version
Plain Text Version


Spring Equinox "A Druid Missal-Any Vol. 19. Issue 2" March 15th, 2003
Full Graphics Version
Plain Text Version


Oimelc "A Druid Missal-Any Vol. 19. Issue 1" January 19th, 2003
Full Graphics Version
Plain Text Version


Yule "A Druid Missal-Any Vol. 18. Issue 8" December 21st, 2002
Full Graphics Version
Plain Text Version


Samhain "A Druid Missal-Any Vol. 18. Issue 7" Oct 29th, 2002
Full Graphics Version
Plain Text Version

Fall Equinox "A Druid Missal-Any Vol. 18. Issue 6" Sept 21st, 2002
Full Graphics Version
Plain Text Version

Lughnasadh "A Druid Missal-Any Vol. 18. Issue 5" August 1st, 2002
Full Graphics Version
Plain Text Version


Summer Solstice "A Druid Missal-Any Vol. 18. Issue 4" June 17th, 2002
Full Graphics Version
Plain Text Version

Beltaine "A Druid Missal-Any Vol. 18. Issue 3" April 28th, 2002
Full Graphics Version
Plain Text Version


Spring Equinox "A Druid Missal-Any Vol. 18. Issue 2" Mar 15th, 2002
Full Graphics Version
Plain Text Version


Oimelc "A Druid Missal-Any Vol. 18. Issue 1" Jan 30, 2002
Full Graphics Version
Plain Text Version

Winter Solstice "A Druid Missal-Any Vol. 17. Issue 8" Dec. 3st, 2001
Full Graphics Version
Plain Text Version


Samhain "A Druid Missal-Any Vol. 17. Issue 7" Nov. 1st, 2001
Full Graphics Version
Plain Text Version

Fall Equinox "A Druid Missal-Any Vol. 17. Issue 6" Sept 21st, 2001
Full Graphics Version
Plain Text Version

Lughnasadh "A Druid Missal-Any Vol. 17. Issue 5" Aug 1st, 2001
Full Graphics Version
Plain Text Version

Summer Solstice "A Druid Missal-Any Vol. 17. Issue 4" June 21st, 2001
Full Graphics Version
Plain Text Version

Beltane "A Druid Missal-Any Vol. 17. Issue 3" May 6th, 2001
Full Graphics Version
Plain Text Version

Spring Equinox "A Druid Missal-Any Vol. 17. Issue 2" March 10th, 2001
Full Graphics Version
Plain Text Version

Oimelc "A Druid Missal-Any Vol. 17. Issue 1" Jan 21st, 2001
Full Graphics Version
Plain Text Version

Winter Solstice "A Druid Missal-Any Vol. 16. Issue 2" Dec 21st, 2000 C.E.

Samhain "A Druid Missal-Any Vol.16 Issue 1" Nov 1st, 2000 C.E.
Want to read more RDNA stuff?

http://www.geocities.com/druidarchives/chronintro.html
Repository of Historical RDNA Publications of the 70's, 80's & 90's
All original authors contributing to A Druid Missal-Any have and maintain their own copyrights. The published pieces are here with the permission of the original author.