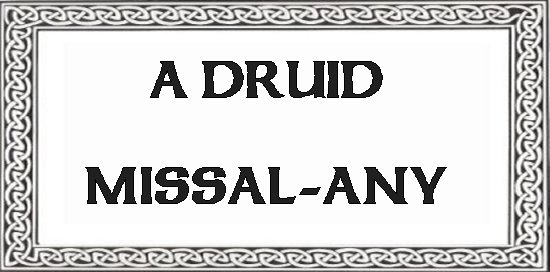 A Newsletter of the Reformed Druids of North America
Yule, Year 43
(December 21, 2005)
Volume 21, Number 8
CONTENTS OF THIS ISSUE:

Yule Essay
News of the Groves
Celtic Numbering: Part Five of Five
Serial Story: Druidical Treasure, Pt 6 of 8
News: Harry Potter And the Philosopher's Stone: Scottish Gaelic Edition!
News: Pa. May Let Hunters Use Prehistoric Weapon
News: Warm glow of Irish peat takes edge off oil woes
News: Give us a kiss! Druids reveal the mystery of mistletoe
Events: WITNESS THE WINTER SOLSTICE SUNRISE &
SUNSET AT THE UMASS SUNWHEEL
Events: The Festival of Brigit
Calendar

Full Graphics Version
Plain Text Version
---
Copyright (c) 2005, 2004, 2003, 2002, 2001 and 2000 Stacey J. Weinberger, publishing as A Druid Missal-Any.

All rights reserved. This publication is protected by Copyright and permission should be obtained from the publisher prior to any prohibited reproduction, storage in a retrieval system, or transmission in any form or by any means, electronic, mechanical. photocopying, recording, or likewise. To obtain permission(s) to use material from this work, please submitted a written request to A Druid Missal-Any, P.O. Box 406, Canyon, CA 94516.
All original authors contributing to A Druid Missal-Any have and maintain their own copyrights. The published pieces are here with the permission of the original author.
A Druid Missal-Any is an RDNA publication that began in 1983 by Emmon Bodfish and ran until 1991. This newsletter was re-established by his student Samhain 2000, Day 1 of Geamhradh Year 38